The Headers
The Headers are the band of my very close friend, Scott Freilich, and buddies Bobby Lebel and Dan Stoll. They are a wonderful expression of American Rockabilly, with a special twist and extra excitment. They are super musicians and wonderful entertainers. You can visit them and learn more at their website www.theheaders.com
"High Octane Rockabilly."
Those are the words that best describe the music and showmanship of the Headers. The Headers stage show includes a fun, danceable mixof originals, select covers and onstage antics that hearkens back to the days of the sockhops but propels the style into the future by adding infusions of jazz, country, chicken pickin', and rock. The Headers is fronted by guitarist, vocalist and songwriter, Bobby Lebel.
Former "Road" alumni and an inductee in the Buffalo Music Hall of Fame, Bobby's numerous album projects have earned him notoriety and a record deal in Italy. He has jammed on stage with such greats as Edgar Winter and band members of Ted Nugent, Chick Corea and Robben Ford. He has backed up stars like Kathie Lee Guifford and opened shows for Rare Earth, America, Three Dog Night, Head East, Twisted Sister and James Cotton. Lebel's songwriting for this project is heavily influenced by Sun-Records-Era Elvis, Eddie Cochran's rockabilly, Bobby Darin's swing style, Dick Dale's surf wave and the picking of Les Paul and Merle Travis. Drummer, Dan Stoll is a veteran player who has spent the last decade and a half playing with his brother in the Stoll Bros Band. His excellent musicianship and beautiful tenor voice are a great addition to the Headers. The talents of upright bassist and Buffalo Music Hall of Fame inductee, Scott Freilich has placed him in venues supporting Weather Report and Herbie Hancock and also in the studio with Ani DiFranco and the Boinger Band. His animated style rounds out the big bottom of the Headers.Featuring the enviable songwriting talents of Bobby Lebel, their debut album, "Turn It Up!" represents the intense energy of a Headers show and will surely inspire you to hit the dance floor, buy a hotrod or run out to find a hula hoop. The Headers have a new CD out called "Don't Be Talkin' Smack,". It contains 12 songs full of energy.
The band members are all music legends in Western New York area. The music on this CD is original rockabilly and if you like The Stray Cats and Elvis, you'll love this album. There are 12 tracks full of Memphis style vocals and smokey bar-b-que chords that make you want to put on your dancin' shoes and hit the dance floor. There are a few ballads also, like "She's Through With You" and the cover classic "Sandman" but the majority of "Don't Be Talkin' Smack" will hit you in the face like a Lake Erie snow storm. Lebel's lead guitar and Elvis like vocals dominate the CD, but Freilich's upright bass and Stoll's drums provide a super backdrop to this rockabilly feel. There's more twang in this CD than straight ahead rock, so I think country music enthusiasts might dig it. These guys are professioanls indeed at what they do. "Don't Be Talkin' Smack" is available at and find more information at www.theheaders.com.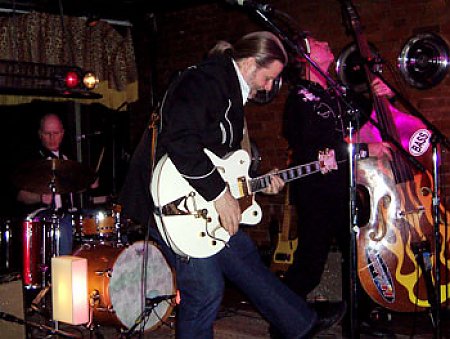 The Headers from Buffalo New York State, USA
Back to Top